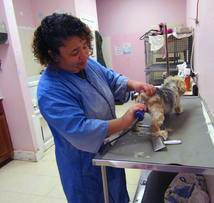 Is your dog looking a little shaggy? Cat having trouble grooming? Is your bird due to have its wings trimmed? Bring them to us for pet grooming in Saint Francisville, West Feliciana Parish, Bains, or Hardwood, LA! We have an experienced staff who takes immense pride in helping your pet look as good as they feel. From cats and dogs to more exotic animals, we're ready to give them the complete grooming attention they need.
For cat and dog grooming in Saint Francisville, LA, drop-off is at 8:30am and pick up is between 4pm and 5pm. If you need to pick up your pet earlier, please let our staff know and we'll do our best to accommodate you. Please also note that all pets are required to be up-to-date on vaccines and annual examinations.
Pricing for Cat & Dog Grooming
Depending on your pet grooming needs, we have convenient pricing that's affordable and inclusive. Our basic services are as follows:
$10 Services:
Detangling <20 lbs, oral flea treatment, nail trim, nail polish
$15 Services:
Detangling <20 lbs, tooth brushing, ear cleaning/plucking, sanitary shave
$20 Services:
Dremel/file, anal gland expression
Pet Supplies
While your pet is being groomed, don't forget to check out our selection of pet supplies in Saint Francisville, LA. We sell leashes, collars, food, shampoo, pet treats and pet supplements, among other items. Need a recommendation? Don't hesitate to ask! We'll be glad to speak with you about your pet and point you in the direction of products that are ideal for them.
Exotic Animals Welcome
More than just cats and dogs, we also welcome exotic animals, providing your pet with the grooming services they need. From beak/wing trims, to bunny and ferret exams, to nail trims and more, we'll make sure your pet's unique cat or dog grooming needs are tended to with care and precision.
Contact us today at 225-635-6681 to schedule your appointment. St. Francisville Animal Hospital will be glad to provide more information about our grooming, pet boarding, and emergency vet abilities and make sure your pet is all set to receive the TLC they deserve!